27 Nov

Project Rotations and Rotating Projects

I'm writing this post today in between interview meetings for a search committee I'm on. Considering I was on the other side of this process in early April, it's interesting to be the person evaluating a candidate. One thing I've appreciated about being on a search committee is that I have a better idea of what committees look for in a candidate, and this makes me feel more confident when I have to start the application process in less than a year. What that job search will look like is yet to be determined, but I feel more prepared for it already.

One reason I feel more prepared for that process is that I finally am working with metadata in my project. A few weeks ago, I finished an EAD finding aid that was thousands of lines long, and then I wrote an XSLT metadata crosswalk for that finding aid. Before the conference I went to last month, I taught myself XSLT over a weekend, and I'm glad I did. I had to end up searching GitHub for other examples of metadata crosswalks that went from EAD to a .txt file; I had only taught myself how to go from one XML schema to another. It was embarrassing to sit down with a colleague to show her my original file to demonstrate it and it not work, but I eventually ironed out the kinks and am quite proud of what I wrote. When I start my job search, I will be very excited to show these documents and their outputs to potential employers. If you are hankering to view these documents, you can find view the EAD Finding Aid, XSLT file, and the crosswalk output on my GitHub.

Now that I'm done doing that work, I just have to get everything into the digital library, do some assessment and cleanup as necessary, and, time permitting, get a digital exhibit together.

Next semester, I start my rotations in Reference and Copyright/Scholarly Communications. Although neither of these areas is where I see myself ending up, I am very excited about the work I will be doing. One of my projects is a research study I'm developing and carrying out with some colleagues in our first-year experience courses. I've only ever designed one research project before, and I'm very thankful to be working with those with more experience. I will also of course be carrying out subject liaison duties and working at the Knowledge Commons desk. For my copyright project, I will be creating a guide going over Public Performance Rights (something I actually know a lot about, thanks to directing a Rocky Horror Picture Show shadowcast in college) as well as creating some sort of controlled vocabulary to facet videos in our catalog that have these rights. Two things I love: movies and copyright law!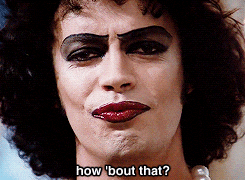 In other exciting news, my first peer-reviewed article was published a few weeks ago. This article, titled "Patron-Driven Subject Access: How Librarians can Mitigate that "Power to Name,"" is an extension of my Master's thesis which compared the search terms of actual library users to the Library of Congress Subject Headings. I was very nervous for this to be published, as I have always been self-conscious about my writing and I am lightly attacking the status quo, but the response I have received has been uplifting. If you want, you can read my article on In the Library with the Lead Pipe.
It's very exciting to be recognized by my peers this early in my career. For instance, at the beginning of the month, I was inducted into the alpha chapter of the library and information science honors society Beta Phi Mu. I had hoped to be invited to join upon graduation as soon as I learned about the organization when I started graduate school. I know that some people don't really give much importance to stuff like this, but I am the first college graduate in my family, and it feels really amazing to be excelling in academia when the odds are so stacked against me. I've also applied for some travel grants for ALA, so stay tuned!